16 Mar

It's All Greek To Me

Posted at 5:05 PM

in

News

The sun continues to bathe us in warmth, the quality of the light changing incrementally as the sun lowers in the sky and softens… but even this delight is a two edged sword. Our forest and garden are parched under an endlessly bright sky; while across the Tasman an inundation of rain has wreaked havoc, here in Aotearoa our land is gasping. The impact of climate change is surely evident, urgent and compelling, but still we seem to be missing the levers to drive meaningful change. We soon remember how very dependent we all are on fossil fuels, one of the primary contributors to climate change, when this supply chain is suddenly threatened, the world quakes, and we pay the cost as prices soar globally.

I talked in the last newsletter about the feeling of precariousness in our world, with supply chains teetering under the impact of the pandemic, and now a new urgent threat has erupted. Ukraine producers much of the world's supply of staple foods – they are the world's largest supplier of sunflower oil and seeds, and the biggest supplier to much of the world of wheat, barley, corn and other grains. There is much talk about buying 'local' inside this globalised world, but "buying local" is really not another platitude and we need to stop thinking about it like this. In the New Zealand context what does this mean about food security? Do we continue to put houses on land that is suitable for horticulture and has traditionally been a 'bread basket' located close to our biggest population centre? How do we manage land and farming so that production meets the needs of our local population while balancing this beside our need for trade and overseas earnings? How do we manage fishing, is it okay that fresh fish from NZ waters sells for less in Japan or Los Angeles than here at home? We worry about the duopoly of the big supermarket chains, but what else is wrong with our supply chain at home that results in a dairy product such as cheese becoming unaffordable for many families here? Maybe it takes a world crisis to focus our attention.

In this newsletter we are looking at things that are produced here but inspired by the sunny Greek diet – for instance olive oil, sheep's milk feta cheeses, honey and local Kalamata olives.

My recipe this week is a Mediterranean fish dish (not strictly speaking Greek) using kahawai, frequently maligned and often used as bait, it's actually a wonderful eating fish, and within the fish world, pretty sustainable! Take a look at Sanford and Sons website to get tips on filleting kahawai. If you can't get hold of kahawai, suitable alternatives are hapuka, blue nose or monkfish.

Saffron & Fennel Fish Stew
This is a rich and delicious fish stew which uses plenty of great summer produce. You can make the base a day or two ahead if you're preparing it for guests.  
Allow about 175gr fish per person. Your fish should be suitable to be cut into large pieces with no bones. You really want to have thick pieces of fish, cut to 3 – 4 cm square chunks. 
I use an iron pot to prepared this and serve it directly from the pot. You need a pot with a fitted lid. 

Base (for about 6 guests)
150ml Olive Oil
2 x medium or 1 very large brown onion sliced into rings
1 x Red Pepper, diced
1 x Fresh Red Chilli, diced
1 x Fennel Bulb, sliced finely
6 x Large Garlic Cloves, finely chopped (or to taste – you can add more if you wish!)
Tomatoes (4 x large low acid fresh chopped, skinned and seeded; or 1 x chopped tinned tomatoes)
12 x Saffron threads, steeped in 1 cup warm water (let them steep while you're preparing the other vegetables for the base)
2 x whole Bay Leaves
1/2 tsp Turmeric
1 x heaped tsp course Salt
Small bunch of chopped Fresh Herbs (oregano, rosemary, basil – whatever is at hand)
1 x Cup White Wine
1 x scant tbsp Raw Sugar
Ground Pepper to taste

8 x Medium Sized Potatoes suitable for boiling (such as Nadine or Yukon Gold)
3 x Courgettes, sliced thickly at an angle
Fennel Fronds, roughly chopped (for serving)
1 x tbsp Ouzo/Pernod (optional – or use brandy if you wish)
Fish in chunks

Method: 
GENTLY heat olive oil, add onion rings and cook until soft, turn up heat just a little and add diced peppers, sliced fennel and cook until beginning to soften. Add tomatoes, garlic and all the fresh herbs and dry spices (including salt), and cook until heated through, about another five minutes. Now add the liquids (including the saffron and the water it has soaked in), finally add the sugar. Cover and bring your pot to a gentle simmer for a further 30 minutes, then turn off and remove the bay leaves. Taste. Add salt and pepper as required. Set base aside.

Final preparation:
Scrub well or peel potatoes (I'm a scrubber!), cut in half and simmer in a pot of salted water until firm but nearly cooked. Remove from heat, reserve water. Cut each potato lengthwise into half again (or 2 cuts if you prefer), add potatoes to base and 1 cup of the potato water to top up the base.
Reheat base (if you have pre-prepared and stored it), finish cooking potatoes, about 5 minutes of gentle simmering. Finally add courgette slices and fish chunks and continue gently simmerimg for a further 5 minutes – until fish is tender and white. Take off heat. Add the ouzo (or similar), mix through being careful not to break up the fish. Serve in large bowls with fennel fronds sprinkled on top, crusty bread on the side for mopping up!

Bon Appetit!

Alison
---
Eat Like a Greek…
Beginning with olives & olive oil! It is widely believed that a Mediterranean diet contributes to a long, healthy, contented life. In ancient times, Greeks used what the land gave them: namely, olives – in abundance. Olives to consume, to press into oil, to use as a balm for skin or hair care. Although it's still a relatively young industry here, a good number of Kiwi growers & producers recognised that parts of New Zealand are ideal for growing olives, and they have been making some of the best quality olive oil we have tasted since we last visited Greece! Kiwis spend abut $35M annually on olive oil – and over 90% of it is imported.

Particular favourites of ours are the Kapiti Extra Virgin Picual, grown and produced on one of New Zealand's larger olive estates, with well over 2,000 trees, it has been a consistent award winner locally and internationally, as is Rangihoua Estate, est 1997 on our island backyard of Waiheke. Rangihoua manages 80% of the olive groves on Waiheke and they too boast national and international awards for their EVOO.
While you're shopping in Scarecrow. do grab a packet of Kiwi Artisan Manuka Smoked Olives or Telegraph Hill classic Kalamata olives  – traditional but with a Kiwi twist, and we love them. Call into Scarecrow Grocer at 811 Mt Eden Road or Scarecrow in the City at 33 Victoria St East to see our range of Greek inspired goodies.
---
Cheese, please 
Before the tomato crop stops, don't forget to enjoy late summer salads with dry and salty crumbled feta on your tomatoes and olives – perhaps some thinly sliced red onion, all drizzled with olive oil of course! Then, as the season begins to turn, curl up on a Saturday evening with a glass of full-bodied red (from our cellar) and  pair it with a selection of artisan cheeses from our all NZ range. We really are so lucky in this country to have acclaimed, talented & passionate cheese-makers. Try a Little River Estate, Mahoe Farmhouse, a Grinning Gecko or something from long-time favourite Over the Moon. We also stock the Savour range of vegan cheeses – so you can rest assured you'll find something for everyone in the chillers at Scarecrow. Can't make it in? Give the team a call on 09 377 1333 and we'll put a cheese pack together to deliver.
---
Honey, honey 
Speaking of Greek-inspired things (we know the Greeks love their honey!), do try your hand at a Greek Orange Honey Cake
with Pistachios. Check out the recipes online – Jamie Oliver has a great one; it's GF and uses olive oil.  Scarecrow stocks a range of NZ honey that is truly second to none.  We are vocal champions of all things bee-related and our locally made honey is not only a delicious pick-me-up straight from the spoon, but it is also jam-packed with health benefits, (or should that be 'honey-packed'… ), think plentiful antioxidants & antibacterial properties. Great to have on hand for the start of the cough season! It's hard to choose our favourite, let's just say we're sweet on all of them! Have you tried the herb or chilli infused honeys? Especially good drizzled over a wedge of aforementioned cheeses!
---
A sweet treat to try
Greek, Turkish, Middle Eastern  – certainly Mediterranean; baklava is one of those very special treats best made by an experienced baker. Fortunately, Scarecrow's pastry chef has made a million baklava in her time, and continues to fill the cabinet regularly with her renowned Scarecrow version. We love it, as we know will you. Enjoy over long chats with a bestie and a warming pot of tea. There's plenty of time to savour a sweet treat at our cosy little café on the corner of Victoria St East opposite Albert Park. We'll see you in soon for a slice!
---
Buy Sunflowers
Goodness knows we could all do with a little brightness in these unsettled times,
and thinking about Ukraine and its huge production of sunflowers, here is our Bubble of One Sunflower Bouquet, just the thing to take home or to gift some joy to a friend. The sunflower season is limited, but what better way to share some cheer & make it meaningful at the same time. Order online for Auckland wide delivery or give the florist a call on 09 377 1333 ext 4. 
---
Coachella
Dreaming of festivals? Bring some Coachella vibes into your home with our latest flower creation. Coachella is an everlasting line up of carefree, dried flowers making for a hip and laid back bouquet. Dried flowers are incredibly hot right now – order yourself a Coachella bouquet, or send one to a friend as a gorgeous gift.  It's easy to add a bottle of NZ wine from our Cellar, or chocolates & a NZ made gift card to make your delivery extra special. 
---
Cheers Aotea Team!
Aotea, you've just brought us one of our favourite products in a new size, thank you!
We love this versatile and wonderful balm which seems to go well everywhere – dealing with chapped lips, itchy bites, an outbreak on the face or on baby's bum. Perfect to heal up all those lumps and bumps. Aotea make it with Sweet Almond and Mānuka Oil, and beeswax from their own bee hives on Aotea, pure and unique. It's a brilliant product and yep, we do love it!
---
Go Green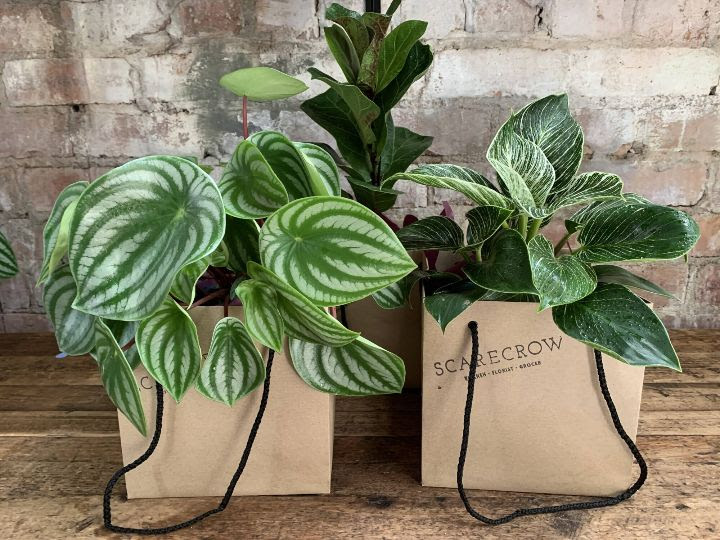 We have a fabulous supply of vibrant and vital plants to bring a boost of energy into your home. Green plants adding chlorophyll and natural health into the atmosphere, and they're just beautiful to look at too! The philodendron are vigorous growers, so think about where you want them trailing. Keep house plants happy in plenty of good light, but not burning in direct sun! Order online now.
---