30 Mar

Celebrate Easter with Scarecrow

Posted at 2:45 PM

in

News

The first quarter of 2022 is nearly at an end – where is the year going? For some there's been a period of isolation at home – I hope that you've not been too unwell, along with the frustration of being 'stuck'. I hope there's been the pleasure of some rest and perhaps good time with partners. family and children. Our Isolation Packs have been flying out the door – so we know you've been well nourished!

Cooling days announce the festive season of Easter, and with it a time to gather with family and friends, enjoy seasonal treats such as Hot Cross Buns and maybe consume a little too much chocolate. Of course, the days are warming and thawing in the northern hemisphere – but I think it's much nicer to eat chocolate when it is a little cooler! However, there is no doubt that the symbolism of the season is largely about spring.

One powerful spring association is rebirth and so eggs have become a part of the Easter tradition.
You can make natural dyes if you're planning on decorating eggs – things such as turmeric, beetroot, coffee, berries and fruits can easily be transformed into dyes. There are a lot of techniques and tips – look them up for a lovely colour experience and a great science lesson too for the children!

I know I mentioned Ukraine in my last newsletter – and I'm compelled to do this again because Ukraine is famous for its traditional Easter egg decorations (called Psanky). Take a look at these gorgeous and vibrant designs.
I hope they inspire you to get hold of some fine paint brushes and give this delicate art a try.
Jewish families gather at this season also, to celebrate the Passover, and similarly enjoy traditional foods such as Passover or Easter Lamb (I've included a Lamb recipe today). Nowruz, the Persian New Year, is also celebrated at this time to mark this season of new beginnings, celebrated with family parties and delicious meals… so, however you are marking this change of season, enjoy the moment of change and share time with those you care about.
Bon Appetit!
Alison
---
Free Range Eggs
Did you know just one egg contains roughly 12% of your daily protein intake? At Scarecrow we are proud to stock free range eggs from Puriri Downs, where happy hens roam outdoors on the hills of Pohuehue near Warkworth. When you buy these eggs you are helping to support a local business, which in turn, helps to support a local community. And you really can taste the difference. Poach or scramble them for breakfast & serve on our own house made gluten friendly loaf for a delicious start to your day.  Add a pouch of our Manuka Smoked Salmon, and turn breakfast into brunch!
---
Easter Decorating 
With Easter around the corner, start thinking about ways to create fun family memories.
Introduce your children to the tradition of egg decorating. Bring the family together around the table to create whimsical painted eggs. It can get a little messy – that's part of the fun! – so first put down newspaper or a tablecloth. Carefully blow the egg from its shell (save egg contents for your lunchtime frittata!), and start decorating. You can use food colouring, crayons, paint or make your own natural dyes. See how creative your crew can be, and send us your pictures, we'd love to see your festive designs!
---
Eggs-cellent Easter Gift Ideas…
Spoil a friend or loved one this Easter with our Chocolate Festival gift hamper. Available in 2 sizes, this is a fabulous way to acknowledge the chocolate lover in your life, and it should keep them going through to next Easter! (We can't guarantee that!)
Perhaps this Easter you fancy a spot of home baking? It's a fabulous way to spend time with the kids then get to enjoy the fruits of your labour together afterwards! Our Budding Baker Hamper has all the ingredients you need, including Secret Kiwi Kitchen baking mixes, Cara Telle Chocolate Buttons, cooking tools, cupcake moulds & a gorgeous Let's Bake cotton tea towel. Get the kids involved for some delicious & fun family bonding!
---
A Treasure Trail for Easter Sunday…
Here's a suggestion for a fun way to spend Easter Sunday morning… keep it local & check out some of the treasures in our vibrant city centre. First, head to the Auckland Art Gallery Toi o Tāmaki for your overdue cultural fix. It's a wonderful place to visit, and there's something for all ages to enjoy! From there, wander into Albert Park, vibrant with autumnal beauty at this time of year. See how many acorns you can collect – they are fun to decorate too! If you're organised, you can leave a trail of clues to lead the family back to Scarecrow for lunch & a warming organic hot chocolate. You'll no doubt have worked up an appetite! Then head down to High St to the bookshops, and  on to the ferry building to look at the mussel farms suspended under the new quay to create natural filtration for the area. If you're still going, grab an ice cream and wander along through to the water sculpture and play space in Wynyard Quarter. 
More Easter Gift Ideas
The team has put together some of the cutest little Easter bundles ahead of the holiday weekend.
Make someone's Easter a little brighter with all they'll need for an indulgent chocolate-themed treat. Try our Cock-A-Doodle-Doo Family Gift Pack or our Easter Joy Gift Pack to brighten someone's day. Both contain our much loved Bee Friendly Enamel Cup(s), organic Hot Chocolate & a selection of organic chocolates. Gorgeous, huh? You can find them in store, or order online for Auckland wide delivery.
---
Lamb for the Long Weekend Lunch…
Here's a great dish if you're entertaining over the long weekend. The lamb can be prepared and left to steep in the spices overnight before cooking up the next day, a perfect dish for helping the host to stay relaxed.
Vegan option: substitute aubergine and chickpeas for the lamb.
Ingredients for 4-6 portions
1kg lamb shoulder
2 onion
8 cloves garlic
2 carrots
2 sticks celery
1 orange
1 apple
50g preserved lemon
100g prunes
100g dried dates
50g coriander
2 litres beef stock
2 tablespoons tomato paste
3 tablespoons Ras el Hanout
Salt and pepper
Olive oil
Method
Season lamb with salt and pepper, seal in a heavy base pan and set aside in casserole dish. Do not wash pan. Sauté roughly chopped vegetables until tender, add to lamb. Do not wash pan, cook tomato paste on low heat until beginning to brown, add beef stock. Stir until pan is clean. Add half the dates and prunes to casserole dish, the orange cut into 1/8ths, grated apple, ras el hanout, combine well and add the beef stock. Cook at 220 C for 45mins then turn down to 160 C and cook for 90mins. Finish with remaining dates and prunes. Preserved lemon and freshly chopped coriander to garnish.
To make your own Ras el Hanout
2 star anise
1 cinnamon stick
1 tablespoon black pepppercorns
3 cloves
2 small dried chilli
2 tablespoon cumin seed
2 tablespoon fennel seed
1 tablespoon caraway seed
1 tablespoon fenugreek
1 tablespoon paprika
1 tablespoon dried ginger
1 tablespoon dried tumeric
Toast all seeds, cloves, anise, cinnamon for 10mins, allow to cool, grind into fine powder and add powdered spices.
---
Pinot Noir from NZ's Best
We are big fans of Central Otago pinot noirs, and here we offer a trio of some of the region's finest, from Carrick, Bald Hills and Peregrine. These are the names you know and love, not readily found in other places. So take a tour of Central Otago's summer, all bottled up & the perfect accompaniment to lunch or dinner with friends over the long weekend. Visit the Scarecrow Cellar at 811 Mt Eden Road or shop our range online.
---
Sparkling to Celebrate
Perhaps you'd like to add a little fizz to the season. This quartet of sparkling New Zealand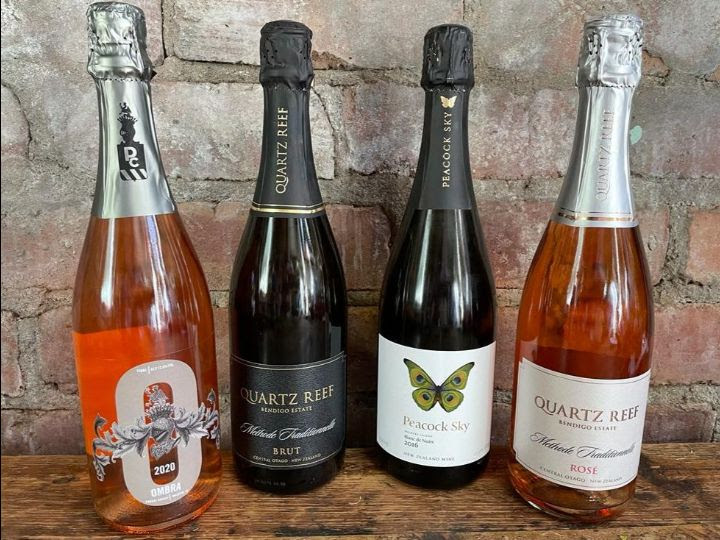 wines makes for an elegant way to toast family, friends and everyday joys. You can't go wrong with this collection of beautifully made local wines, two from Waiheke and two from Central Otago. Bring on some bubbles this Easter!
---
Gold & Blue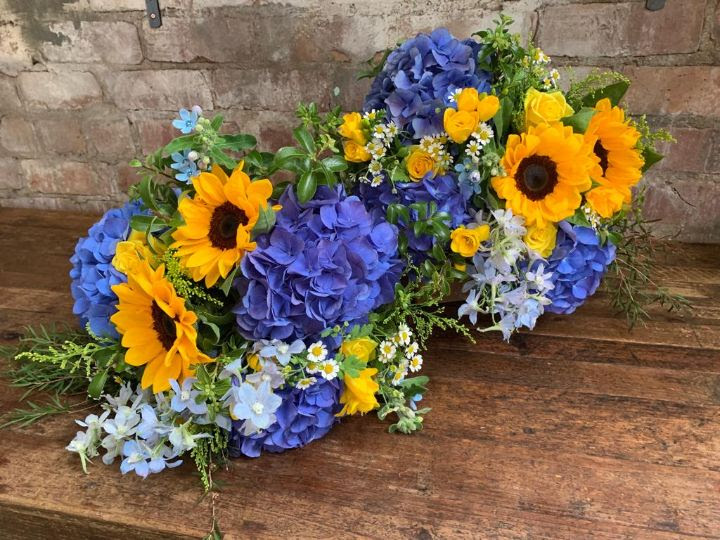 Per Angusta Ad Augusta…Our florist Jane loves making bespoke bouquets, but sometimes an extra special commission comes along. These stunning presentation bouquets, in traditional Mount Albert Grammar colours, were presented during the school's Centennial Year celebrations, both Jane's dad and son are old boys. Do be in touch if you have a special event that requires a really special bouquet!
---
Autumn Flower Workshop
"Autumn is a second spring where every leaf is a flower", Albert Camus. Dusty,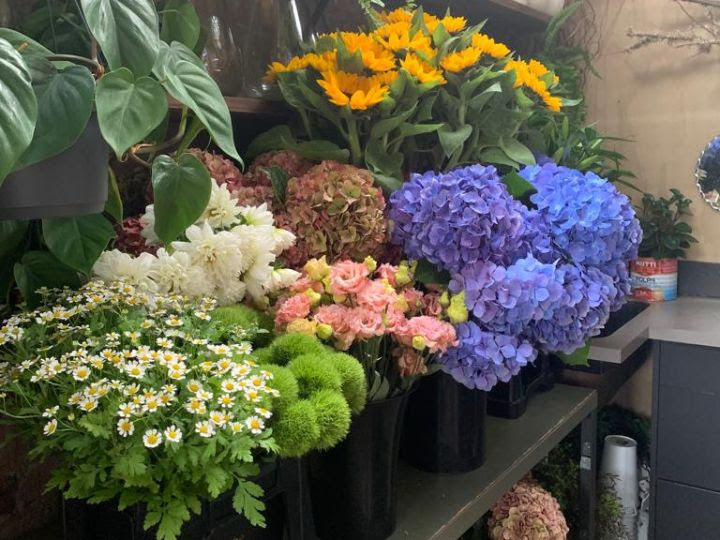 muted tones predominate in the autumn Flower Workshop. Pick up an Autumn Equinox Posy when you're next passing the Mt Eden Rd store. Or pre-order some autumn inspired table centres for your family and friends – whether they're joining you at yours or you're dining at theirs, this is a beautiful moment to bring the natural world in to your home.