11 May

A Seasonal Change

Posted at 4:29 PM

in

News
Hello from Alison
I'm conscious that in these newsletters I've regularly discussed the tempo of the city over the last 2 years, a strange theme emerging from strange times. So, I'm happy to report that there is a newly upbeat tempo in the city as we adapt to living life in the Orange setting. The Town Hall is surprisingly well attended on concert nights, apparently less reluctance to emerge from Covid isolation than I had feared; the restaurants in the vicinity once again bustling with pre-concert diners. University students are back soaking up the autumn sun in Albert Park, celebrating their graduations and socialising. The waterfront and Britomart restaurants are back in full swing with chattering crowds and Auckland Council and Heart of the City are focused on stimulating the city centre.
We are so proud that our Milton was the successful applicant when he applied to be the model for our City of Colour installation – thanks to Heart of the City for including Scarecrow! Altogether, we are feeling things are resembling a more hopeful 'new normal'. I'm also aware that we will experience further adaptations and fluctuations as Covid and the winter 'flu season hit us, but it's nonetheless good to feel some optimism and spirits lifting. With over 41,000 students enrolled at Auckland University alone you can imagine the economic impact of the return of tertiary students to campus. 
With cooler weather on the way there are still so many good things to look forward to: Film Festivals, Writer's Festival, theatre, concerts and more wonderful exhibitions at Toi o Tamaki Auckland Art Gallery. 
Do pop in to Scarecrow when you're next in the city or Mt Eden, we love to see you and the hospitality industry still desperately needs your support. Remember you can shop online with us too  – we have a wide product selection that is ideal for gifts, for supporting family or friends in 'isolation' with nourishment or for brightening someone's day with beautiful flowers.
People regularly write to me after receiving these newsletters and I do want to acknowledge how very much your warm encouragement is appreciated, it's good to know they are read and enjoyed. 
On the subject of acknowledgement, I would also like to mention all the 'Mothers' in our world – so many women play this role in the lives of not only family but in work situations and for friends. I hope you all enjoyed some love and care on Mother's Day. I know that our Scarecrow team worked very hard to bring joy to the day for many women, and I particularly want to acknowledge our team for their fantastic work and especially our extraordinary florist, Jane. 
Finally, a recipe. Well, this is more of a discovery. It's persimmon season. Globes of orange fruit floating on bare branches, it's amazing how many of our winter crops are brilliant orange isn't it? They are a gorgeous sight in the autumn. We recently had our wood fired barbecue working overtime as we prepared to host volunteers joining us in the reforestation project. Our friend Levi took some persimmon and sliced them thickly, (don't bother skinning them – you can eat the whole fruit), and popped them onto the grill along with sourdough brushed with olive oil on the barbecue. He then layered the sourdough with persimmon, blue cheese and our quick pickled red onions. It was a stunning combo!
Try warm grilled persimmon as a dessert with a dollop of Greek style yoghurt on the side drizzled with honey, a squeeze of lime juice and maybe some toasted pine nuts or pistachios to sprinkle if you have them to hand. Something tells me you can get endlessly creative with grilled persimmon, so do enjoy the fruits of the season!
Bon Appetit!
Alison
---
Cheap & Cheerful Eats for the Month of May
We're delighted to be participating in Cheap & Cheerful Eats this May. Goodness knows we are overdue a little cheery hustle & bustle, and here is the perfect excuse to have some fun, and enjoy delicious food to make your belly smile!
Scarecrow is offering two special menus this  month, both including a drink to enjoy alongside your meal.  They are really good value so do make the most of this offer!
Our Cheap & Cheerful menus are available Tuesday to Friday between 12-2pm at Scarecrow in the City up until 31 May. Come in and try them! We'd love to see you. Bookings recommended – call the team on 09 377 1333.
---
Meanwhile..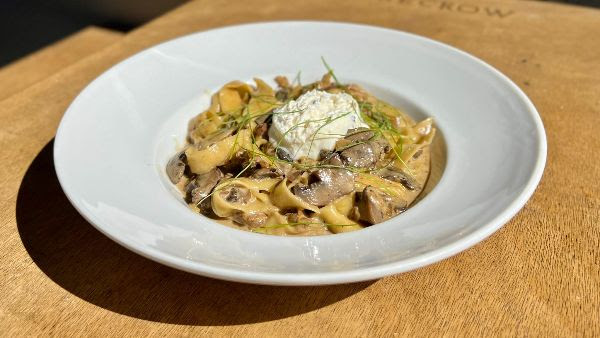 Our Autumn Menu is in full swing, and it seems you are very much enjoying our chef's new offerings. No surprises there! Of note, the daily Lunch Board and our Small Plates. Whatever you fancy, you'll always find one pasta dish, one vegetarian & likely one dish without added gluten on the Lunch Board.  And guess what… they're all always delicious! Come in during the week to see what's on! Also of note – our new  Small Plates are proving very popular and offer a great way to enjoy a shared lunch when you order a few for your table. 
---
Bright Lights in the City!
City of Colour is happening between 6-22 May and we're excited to be involved! Make sure you come in
and check out the lights in the Scarecrow windows at 33 Victoria St East in the city, while exploring over 50 art and light installations bringing colour and magic to the city centre. Can you spot Milton? Discover more at heartofthecity.co.nz/city-of-colour.
---
Tea for You & Me…

We love our Chinese-style iron tea pots so much we've started using them in the cafe too! Not only is this range beautiful & durable, it's top quality, meaning these tea pots hold the heat extraordinarily well. They don't drip, don't break and are absolutely lovely to use, whether that's over a cuppa in store at Scarecrow in the City, or purchased from our grocer shelves to use at home. They come in a variety of shapes and colours.  Have a tea-loving friend? These make wonderful gifts and can be bought individually or as part of our very popular Tea Caddy Gift Hamper, available to order online. 
---
Seasonal Wellness Hampers

As the season begins to change, it's possible your body is feeling it too. Heading into winter,
it's important to keep our immune systems fortified. We've spent two years in & out of lockdown, meaning we are likely less hardy than we might have otherwise been.  Perhaps you have a friend or loved one who is feeling low. Why not send them one of our wellness hampers to nourish and feed body & soul. Our pick for this time of year would be the Immune Boost Box, packed with all the immunity-boosting items our bodies need. The Deluxe Sanctuary Hamper has all these things as well as healthy dark chocolate snacks and other goodies. For skin pampering you can't go past Soul Shine Wellness. In short, there are plenty of Scarecrow Gift Hamper options to promote good health and wellbeing, and they are a wonderful way to show a friend you care.
---
Another Winter Warmer… Gluten Free, Vegan & Delicious

West Coast Cocoa Merchants hot chocolate and chai range have been flying off the Scarecrow shelves for some time now, and it's no wonder. Produced on the West Coast of New Zealand, each batch is carefully blended for consistently delicious results. Now, not only can you buy WCCM range to take home, we're also using it on the Scarecrow café hot drinks menu. Come in and enjoy a chat with a friend over a warming mug of hot chocolate, it's a wonderful winter belly warmer for the months ahead. 
---
Welcoming Somboon
Many of you will have already chatted with Somboon, our new Store Manager at
Scarecrow Grocer in Mt Eden Road. In fact, to many of you he will have been a familiar face already. Somboon joined us after 11 years as store manager at Harvest Huckleberry West Lynn and certainly hit the ground running at Scarecrow. Somboon's wealth of experience, outstanding product knowledge and exceptional customer service skills make us feel very lucky indeed to have him. Say hi next time you're in!