14 Apr

Long Easter Weekend Incoming

Posted at 10:26 AM

in

News

Hooray! There is a HOLIDAY weekend on its way.  Don't feel you have to work too hard on elaborate preparations for delicious family meals – we can help out! We all know it's not a holiday if you're stuck in the kitchen for too many hours while the gang has disappeared  out on Easter adventures.
 
If you're keen on a bit of traditional fare, then try creating a vivid autumn salad of mixed leafy greens topped with a choice from some of the new season's fruits such as nashi pears, pomegranates, oranges, fresh figs or dates, hazelnuts or walnuts to accompany our Moroccan Lamb Pie. You could roast off some pumpkin (cube it up and toss it in a few sweet spices), cool it and scatter the bright orange pumpkin on top. Dress your salad with a citrus and French mustard vinaigrette. Perhaps also prepare some simple boiled potatoes finished with crushed salt flakes and a drizzle of olive oil. A simple and festive meal.

 
Or go the vegetarian route and feature our delicious Butternut & Lentil Pie, accompany it with new season Brussels Sprouts and toasted almonds, add a dish of creamy mashed potatoes if you've got a hungry crowd!
 
We are closed for public holidays (Good Friday, Easter Sunday and Monday), so be sure to pick up your supplies on Saturday. We have a limited number of organic dark chocolate Easter themed products – take a look at our online selection and order asap. 
Last newsletter I mentioned the famous Psanky, the traditional Ukranian Easter eggs. Still with my mind on Ukraine and this critical and evolving situation, I want to mention "Winter of Fire, Ukraine's Fight for Freedom"; it is a documentary made in 2014 and available on Netflix. If you have time over the long weekend, I recommend viewing this. It is disturbing but offered me many new insights. We are indeed living in an explosive and fragile world – and while our minds are engaged in the imminent threats to democracy our planet teeters on it's own edge of collapse. Holiday weekends are such a good opportunity for time out, but they also offer good time to reflect on what we can do to make our world a better place.
Here's a great recipe for simple and delicious Brussels Sprouts, sweet and delicious.
Toast a generous cup of slivered almonds in your oven.  Lightly par-boil about 1kg of brussel sprouts (about 1 minute), drain well and chill in a bowl of icy water to keep their vibrant colour, then slice them in half. Now toss them into a pan of sizzling butter and flaky salt for about 5 minutes (keep turning them!), now turn down the heat and add a crushed garlic clove (don't burn it!) and a finely sliced red onion, sauté gently for a further 3 minutes. Turn pan off, then stir in most of the almonds and the juice of one lemon. Serve in a bowl sprinkled with the rest of the almonds.
Enjoy the stillness of idyllic autumn days, we hope much needed rain falls on the land!
Bon Appetit!
Alison
---
Easy Ideas for Easter Lunch
Cooking for a crowd can be a little stressful, let's be honest! Luckily Scarecrow's range of family pies and lasagnes will please even the fussiest of Easter feasters. We're stocked up & ready to deliver to your door! Here are just a couple of our best-loved options…
Moroccan Lamb Pie
As the season changes we find ourselves craving heartier, warming meals. Scarecrow's Moroccan Lamb Pie might just be the longest-standing item on our Ready Meal menu – and there's a reason! Traditional North African spices & sweet dates are a match made in heaven for slowly braised lamb cooked  for several hours to infuse maximum flavour and ensuring the meat falls apart in your mouth, all bundled into a savoury, buttery pastry case – need we say more?
Butternut & Lentil Pie
Vegetarians (and non-vegetarians) rejoice, our Butternut & Lentil Pie is a flavourful & easy way to impress guests over the long weekend.
Featuring gentle curry flavours and creamy coconut milk, it is rich and satisfying… and you don't need to lift a finger! (See our suggested sides in the introduction above for a complete and wholesome meal in a flash). Grab a couple of these to feed a crowd. You can order online & we'll deliver to your door, Auckland wide. Easter made easy, right?
---
Hello, chocolate lovers
(Can we say that…?) A reminder of our very special Easter gift packs; more chocolatey than your average chocolate, and all made in Aotearoa!
Easter Joy

Here's a sweet little gift to treat a neighbour, grandparent, colleague, friend or lover, bundled into our favourite Bee Friendly enamel mug. Affordably decadent, and cute!
---
Cock-A-Doodle-Doo Easter Family Pack
Ever been given a chocolate cockerel? No? Here's your chance to try one! Packaged up with
Hot Cross Buns from Wild Wheat, an organic Hot Cross Bun Bar from La Petit, Good Fortune Organic Drinking Chocolate and 4 Bee Friendly enamel mugs, the Cock-A-Doodle-Doo Family Easter Pack has everything you need to start Easter Sunday right.
---
This is the Cockerel in all his golden splendour – almost too good to eat! An organic, dark chocolate treat, ready to go!
---
If you're feeling ultra-indulgent, surprise your Easter bunny with the chocolate hamper to surpass all others. Check out the Chocolate Festival Gift hamper over on our website. (Spoiler alert: this hamper really does do what it says on the tin – yum!). Or just set the kids up in the kitchen with our Budding Baker Hamper. You'll thank us later!
---
Cotton napkins back in store
Feel the autumn vibes in these wonderful colours. Tis the season of citrus now – what a way to
celebrate these vibrant fruits. The cotton napkins come in sets of four and are available in a selection of vintage designs, presented in a lovely cotton bag. We love them! A beautiful way to add seasonal colour to your table, they also make a very useful, lasting and beautiful gift. So cute shown here with the Easter chocolates and enamel cup gift. Think about replacing hundreds of paper serviettes with cotton napkins that will last for years! You can make them into 'family traditions'- Cavallini & Co do some fab Christmas designs too (coming back later in the year).
---
An Easter gift that will last…
If you're looking for an alternative to Easter chocolates, look no further! Pick up a plant in a pot or posy of flowers.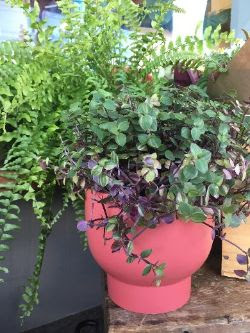 ---
In case you missed it… try our Treasure Trail this 

long

 

weekend
Before we bid adieu ahead of what is always a busy week leading up to Easter, and in case you missed it from our last newsletter, here's a city centre Treasure Trail we've come up with. It's a way to support our wonderful neighbours in  a time we all really need it, and a fun family adventure that will weave you through the heart of vibrant Auckland City.
First, head to the Auckland Art Gallery Toi o Tāmaki for your cultural fix for all ages to enjoy. From there, wander into Albert Park, vibrant with autumnal beauty at this time of year. See how many acorns you can collect – they are fun to decorate too! If you're organised, you can leave a trail of clues to lead the family back to Scarecrow for lunch & a warming organic hot chocolate. You'll no doubt have worked up an appetite! Then head down to High St to the bookshops, and on to the ferry building to look at the mussel farms suspended under the new quay to create natural filtration for the area. If you're still going, grab an ice cream and wander along through to the water sculpture and play space in Wynyard Quarter. 
---
And last but not least, the Cellar… 
Speaking of treasures, the cellar at Scarecrow Grocer, 811 Mt Eden Road is filled with New Zealand made wines, craft beers & ciders. Sparkling wines to celebrate, pinot noir & Italian-style blends from some of our country's most talented winemakers – whatever you're looking for, you'll find it on our cellar shelves. If you can't make it in, replenish your wine collection directly from our website before the guests arrive for the 

long

 

weekend

! We deliver right across Auckland. Happy days.